Website Launched For Cove Signal Cannons
18-May-2016, WATERFORD, CT: InnoTech of Pawcatuck, CT, has announced the launch of a new website for Cove Signal Cannons of Waterford, CT.
Cove Signal Cannons has manufactures and distributes a custom built signal cannon that you have to see to appreciate. Signal Cannons were first used by ships coming into harbor to signal other ships on the water. Cannons were also used to signal or notify the authorities in the port to come and inspect the ship before it offloaded its goods and crew.
The tradition of signal cannons is still used in boating today. A signal cannon is used to start regattas and races for and to add excitement at outdoor ceremonial events. Many cannon enthusiasts also enjoy collecting and firing the cannons recreationally.
The new website is mobile-friendly and is integrated with PayPal to provide online shopping capabilities.
InnoTech provides Cove Signal Cannons with the following website services:
Our Latest News
10-Apr-2019, PAWCATUCK, CT
InnoTech launches new website for Phoenix Dining & Entertainment of Pawcatuck, CT. This website was launched to coincide with the grand opening of this new dining and live entertainment facility on Liberty Street.
Read
30-Mar-2019, QUAKER HILL, CT
InnoTech of Pawcatuck, CT, has completed the deployment of an upgrade Web Application for the Quaker Hill Rod & Gun Club. This new web app brings additional club management capabilities for the club's members and officers.
Read
24-Mar-2019, GALES FERRY, CT
InnoTech has launched a new website for Vintage Electric Cars of Gales Ferry, CT. Learn about the restoration of three early electric cars from the 1920's.
Read
Visit The Site
Click below to visit this new website for the Cove Signal Cannons: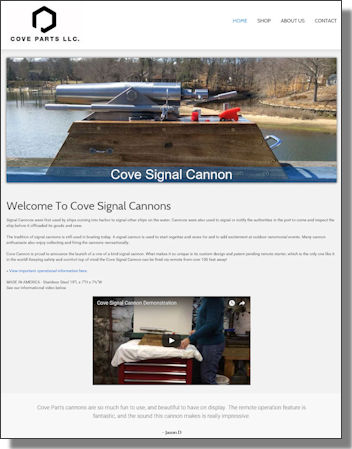 About InnoTech
InnoTech is a leading provider of 3D interactive photography, Website Design Services, Website Hosting, Mobile Website Services, Email Marketing, Social Networking Services, and Search Engine Optimization for small businesses throughout Connecticut and Rhode Island. With over 100 unique website design projects successfully implemented over the years, InnoTech has the experience to deliver for your small business or non-profit organization. InnoTech is a Limited Liability Corporation (LLC) which is registered with the State of Connecticut.

Visit www.innotechllc.us to learn more about InnoTech and the professional business services which they provide.