New Website Launched For NuCalm 492
15-May-2017, GROTON, CT: InnoTech of Pawcatuck, CT, has announced the launch of a new website for NuCalm 492 of Groton, CT.
NuCalm 492 is a certified provider of NuCalm 2.0. NuCalm is a patented, all-natural stress intervention technology. NuCalm scientifically sequences four relaxation therapies to mimic your body's own process for 'winding down' and preparing for sleep. You will feel the same way you feel just as you are about to fall asleep.

For a limited time, the new website includes a free trial for three sessions with the NuCalm 2.0 device.
You can visit the new website for NuCalm 492 at: http://www.nucalm492.com
InnoTech provides NuCalm 492 with the following website services:
Our Latest News
01-Sep-2018, WESTERLY, RI
InnoTech of Pawcatuck, CT, has announced the completion of a website redesign project for one of our long time clients, The Law Office of George Comolli in Westerly, RI.
Read
07-Apr-2018, CROMWELL, CT
InnoTech of Pawcatuck, CT, has announced the launch of a new website for the CT Association of Plumbing Heating & Cooling Contractors.
Read
01-Apr-2018, ESSEX, CT
InnoTech has completed a website support project for Carpenter Landscape of Essex, CT. Carpenter Landscape contacted InnoTech to assist in making modifications to their existing website which is hosted and managed by another company.
Read
Visit The Site
Click below to visit this new website for NuCalm 492: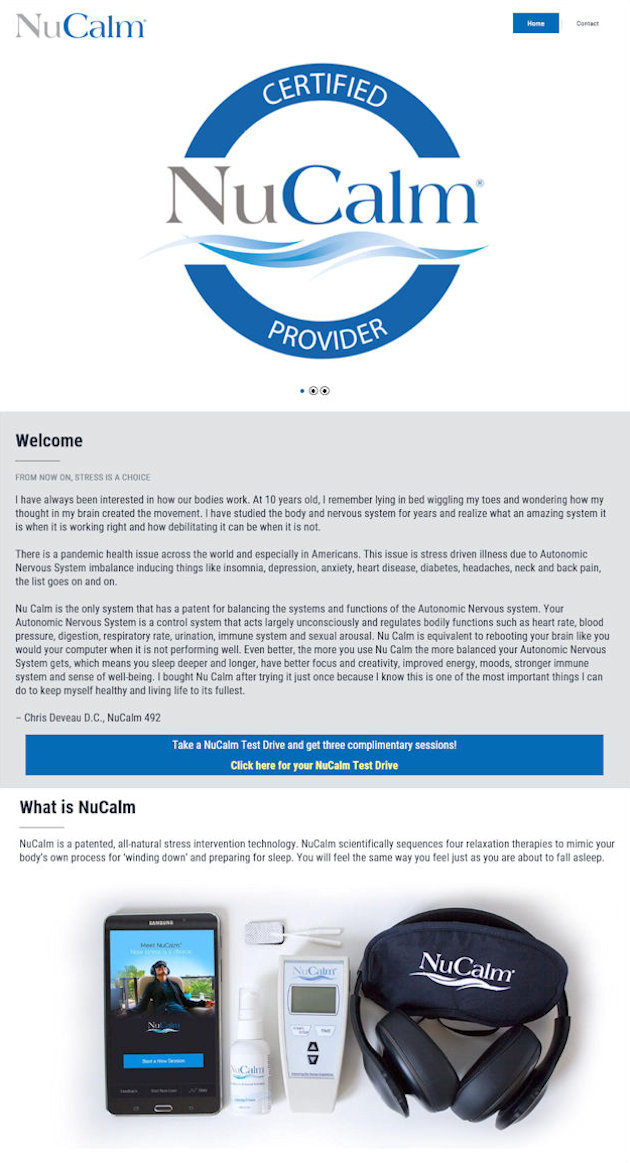 About InnoTech
InnoTech is a leading provider of 3D interactive photography, Aerial video and photography, Website Design Services, Website Hosting, Mobile Website Services, Email Marketing, Social Networking Services, and Search Engine Optimization for small businesses throughout Connecticut and Rhode Island. With over 100 unique website design projects successfully implemented over the years, InnoTech has the experience to deliver for your small business or non-profit organization. InnoTech is a Limited Liability Corporation (LLC) which is registered with the State of Connecticut.

Visit www.innotechllc.us to learn more about InnoTech and the professional business services which they provide.