InnoTech Starts Project for dolphin24.org
23-Mar-2018, OLD LYME, CT: InnoTech is pleased to announce the start of a website maintenance project for dolphin24.org.
The dolphin24.org website is dedicated to owners and others interested in the classic Dolphin 24 sailboat. The site, which is more than 1,100 pages with several thousand images, serves as a technical reference for the boat, and has many unique stories from Dolphin 24 boat owners to describe their experiences with the boat.
This project has two phases. In the initial phase, InnoTech will be transferring this website and three associated domain names to bring them under our management. Dolphin24.org, like many InnoTech clients, prefers to work with a local website support company, so InnoTech was an ideal choice for them. The second phase of the project will include InnoTech making enhancements to the website to provide "Forum" functionality to allow dolphin24.org visitors to exchange messages and help to grow the existing knowledgebase on this amazing website.

To visit this website, click here: dolphin24.org
InnoTech will be providing the following services to dolphin24.org:
Our Latest News
07-Apr-2018, CROMWELL, CT
InnoTech of Pawcatuck, CT, has announced the launch of a new website for the CT Association of Plumbing Heating & Cooling Contractors.
Read
01-Apr-2018, ESSEX, CT
InnoTech has completed a website support project for Carpenter Landscape of Essex, CT. Carpenter Landscape contacted InnoTech to assist in making modifications to their existing website which is hosted and managed by another company.
Read
30-Mar-2018, ASHAWAY, RI
InnoTech has launched a new mobile-friendly website for Comolli Granite of Ashaway RI.
Read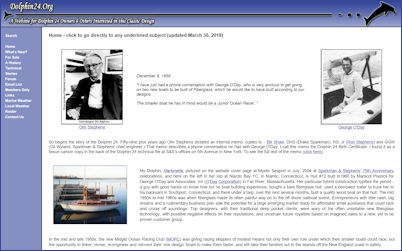 Visit the dolphin24.org website
About InnoTech
InnoTech is a leading provider of professional Website Design Services, Website Hosting, Mobile Website Services, Email Marketing, Social Networking Services, Search Engine Optimization, and Database Design, Implementation, and Hosting Services for small businesses throughout Connecticut and Rhode Island. With over 100 unique website design projects successfully implemented over the years, InnoTech has the experience to deliver for your small business or non-profit organization. InnoTech is a Limited Liability Corporation (LLC) which is registered with the State of Connecticut.

Visit www.innotechllc.us to learn more about InnoTech and the professional business services which they provide.